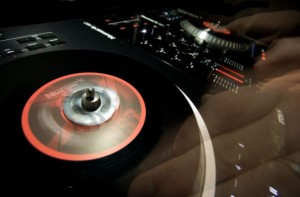 Kickin' it old school!
Want that old school throwback feel for your wedding or party? Do you want your guests to rock out to, "two turntables & a microphone?" B-boys beware!
You can certainly have an elegant wedding with a scratch master after dinner. DJ Kenny Casanova can transform a classy cocktail hour & reception dinner with his 2-hype, 2-legit, "wheels of steel" in mere seconds.  Word!
Spinning stupid-fresh tracks in live turntable style,  DJ Kenny "Scratch-a-nova" will work with you to create a sound that expresses your inner "mac daddy" style and personality. Casanova will dig deep into his wax crates to create an upbeat, live action, turntable vibe for your modern wedding!