Professional DJ Gear – Making your party the best!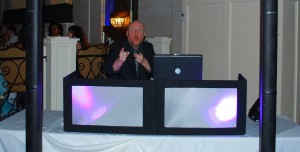 No matter whatever the occasion is, TheDJservice.com always uses the very best in DJ equipment for your event , or special day.
We bring a clean set-up of professional gear.
No flyers, no wires, no spamming your guest with promotional junk…  just the best cutting-edge musical entertainment equipment and lights possible, with affordable fun for all.
MOBILE DJ EVENTS
A professional is only as good as the tools he uses. We use the latest equipment lines on the market to assure an up-to-date performance. We use only name brands including but not limited to: Bose L1 Model 2 tower speakers, Peavey speakers, Behringer Amps, Numark Turntables, Gemini, QSC, Crown, Sony, American DJ, Chauvet lights, Mackie, Harbinger, Shure microphones, and Monster cables.
ALWAYS PROFESSIONAL DJ SOFTWARE
All of our libraries are digital. That means every music selection, every karaoke track and all music videos are being played by professional DJ software, created for disc jockey services. We promise there will be NO DEAD AIR. "No dead air" means NO SPACES BETWEEN SONGS… If you have ever been to an event where the DJ has lots of spaces between the songs and maybe talks a lot as he cues up the next track, he may not be using professional software.
OUR PROFESSIONAL DJ LOOK:
Any good chef event planner knows, looks are 90% of the presentation! DJ Kenny Casanova & TheDJservice.com always make sure your party or event looks the best it can look from our end. We painstakingly hide every wire in sight, and also use the best equipment we can to make your night a memorable one with no distractions.
If you have not experienced what a bad DJ can look like first hand, click here -> Top 10 Signs Of A bad DJ.
The philosophy of our look… Less is more!  No more does a mobile DJ need giant crazy speakers and a massive amount of lights to bring your guests the best. Today, technology has made everything smaller, more efficient, and even better than even only a few years ago.
Here are just a few examples of some items we use to "lessen ugly eyesores, and create awesome dance floors."
BOSE L1 MODEL 2 – WEDDING RECEPTION SERVICES & FORMAL EVENTS
We find that for most of our weddings & formal parties, the Bose L1 Model 2 is the best gear for the event. It projects the music's soundwaves out further at low levels. It also has an even & wider range depth, due to the positioning of multiple small speakers, instead of the one big horn found in most common traditional speakers.
By using this stack system to project the tracks, you don't have to blast the people in the front to reach the people in the back. This is ideal for acoustic and slower tracks, as are often played as a big part of receptions during cocktail/dinner music.