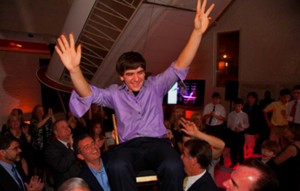 A Traditional Bar/Bat-Mitzvah Outline in Upstate NY
You can always customize the night however you want it. However, sometimes it is good to not have to reinvent the wheel.
Below is a good guideline for what our DJs have seen work in a traditional sense for the Capital Region Mitzvah Celebrations.
MITZVAH OUTLINE OF EVENTS
I. COCKTAIL – For the first hour or so, guests arrive. They seek out common friends and give well wishes. They mingle a little and typically drink, and snack a little.
II. THE MOTZI BLESSING – This blessing over bread is usually performed by a male relative, like a grandfather.
III. TOAST – Sometimes following the Motzi is an optional additional toast (depending on your personal taste) to the guest of honor from his/her parents. This is similar to a best man speech at a wedding.
V . CANDLE-LIGHTING – The Guest of honor initiates family members/ friends to light 13 candles in honor of the celebration symbolic of each year of life.
V. HORA – We have all seen The Hora. A Mitzvah just wouldn't be a Mitzvah without one; the lifting the Guest of Honor and perhaps other family members by chair with a celebratory spinning of guests.
VI. DINNER – Be it a buffet, finger foods, or a sit-down dinner, typically the music drops back a bit to the background for dinner.
VII. OPEN DANCE – This is when the fun fast stuff begins!
Need help planning your special day? Please checkout our Mitzvah Customization page on the Mitzvah menu tab above to better figure out how to make your party a success!