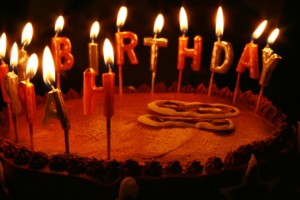 MAKE YOUR BIRTHDAY WISH COME TRUE WITH A LIVE DJ
Close your eyes and make a wish…
It is always always always our DJ's goal to make your birthday wishes come true! Choose our DJ service and we will do just that!
Whether your birthday party is a surprise, a landmark silver or golden event, formal or casual, our DJs can help create the memories.
Be it 10 guests or 110 guests, we work with you to customize the night and make it one nobody will ever forget.  We have many extra party packages to make help customize the event.
HELP CREATE THE PLAYLIST – Our DJs listen. We do not play what we want to hear. We rather work with our birthday party clients in and around Albany, Troy, and Schenectady NY to create the perfect playlist reflecting the target demographic at hand. It is not our nature to force people into hearing stuff that possibly nobody in the room really wants to hear.
CUSTOMIZE THE NIGHT – We offer many additional packages to our birthday party people to enhance the celebration of their special day. No birthday boy or girl wishes for the same birthday wish. While for some, music is all you need, others may find that individualized Party Packages can can play a major factor in highlighting individuality and lead to making your birthday party event everyone will always remember. There are many ways you can accent the person being celebrated and help to create a special event in their honor.
Birthday Party DJ Albany NY
SOME RECOMMENDED ADD-ON PACKAGES – Our Music Videos package is a great add-on. Some birthday wishes have been fulfilled simply by our clients with uplighting to create that special feel and Laser Dance Lights  on the dance floor.
Other customers have opted for digital projection packages so we could project music videos, home videos and/or photo slideshows up on a big screen. And even other birthday wishes have included taking on the task of the birthday boy becoming a karaoke champion!
KARAOKE WARNING – if you elect karaoke for your birthday party, as Spiderman said, "with the power of karaoke comes GREAT RESPONSIBILITY!" )
Birthday Party DJ Saratoga
BOOK NOW! Call us today for a birthday party quote to determine exactly what your birthday wishes are, and how we can make it happen for you.            518.506.3305.