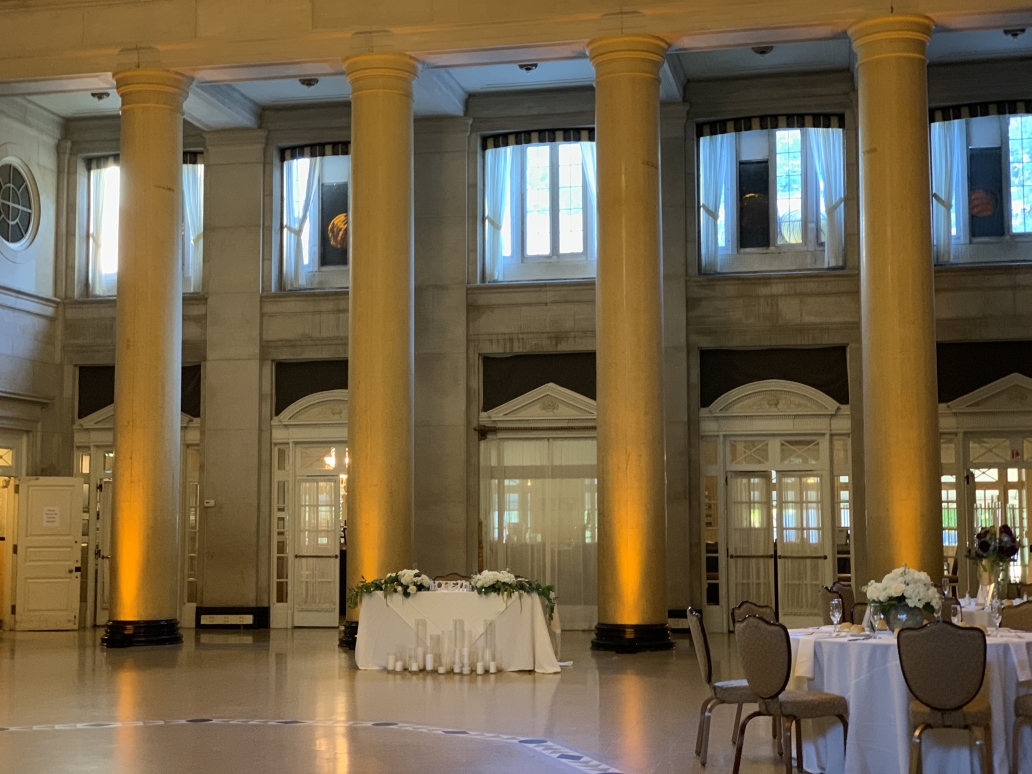 UPLIGHTING IN ALBANY NY
If you are thinking of adding some wall washing and a personal touch to your wedding, talk to us about adding uplights!  Our custom-colored uplighting LED spot flares will be sure to set the atmosphere and mood that you want for your BIG day! If you really want to dress up your party, wedding, or formal event, uplighting is the way to go.
WHAT THE HECK IS UPLIGHTING?
Besides the word, "awesome," uplighting can best be defined as wall-to-wall mood-setting lights. We use strategically-placed LED Chauvet flood lights to illuminate your dinning hall and dance floor. We place our state-of-the-art cans on the floor, aimed in such a way to project light on a wall or accentuate  a particular object, like a column, or pillar, perhaps.
WHAT COLORS DO YOU PROVIDE?
We can best answer this question with another question – "What color can you think of?"  Just like LED televisions, we mix LED RGB lights to produce any color in your wildest imagination. Coral, Hot Pink, Magenta, or Electric Blue? No problem! We can enhance the whole look of the event event and bring your room to life with any colors you desire. You can choose one color theme or multiple colors, it's up to you.
After dinner, we can also transform the uplighting to act as dance lighting. We can actually program the lights to change colors automatically on a loop around the dance floor to  add to your guests' open dance experience.
SOME EXAMPLES OF WHAT OUR UPLIGHTING CAN DO & HOW THEY CAN LOOK:
WILL THE UPLIGHTS HIDE IMPERFECTIONS ON THE WALL?
Our powerful lights create something called "wall-washing;" an elegant lighting effect that masks ugly walls and at the same time makes everything in that area a specific hue, matching the desired color(s) of the evening. That means if you are in a hall that is very plain and very white, or in a room that has grubby wallpaper or less than desirable walls for any reason, our lights will wash away the impurity and replace it with eye-captivating bursts of any color(s) of your choice.
OK I'M SOLD. WHAT KIND OF PACKAGES DO YOU HAVE?
We have two uplighting packages available; Regular Package & Big Ballroom Package. To reserve now, contact us now at 518-506-3305.