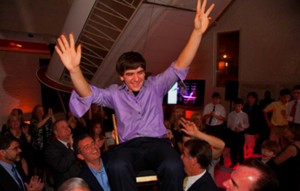 Making your Mitzvah the best!
A Bar or Bat Mitzvah is rite of passage from being considered a youngster who is unable to properly understand the Torah, to being someone who is considered old enough to begin to understand. One thing is certain, they know how to understand a good time!
This "coming of age party" for Jewish boys and girls at the age of 13 is a special one. Be it 100 guests or 10 guests, our DJ service will work with you to customize the night and make this special day one nobody will ever forget.
KEEPING YOUR HAND ON THE PLAYLIST – Our DJs give you the music you want to hear. We work with our Bar/Bat Mitzvah customers in and around Albany, Troy, and Schenectady NY to create the perfect playlist and foster the atmosphere that you are trying to establish, rather than force people into hearing stuff that possibly nobody wants to hear.
Since this occasion is the maturation of a loved one, we promise, we will NEVER EVER embarrass the boy or girl of the hour and play the dreaded "Chicken Dance" or other "silly kid songs" unless you absolutely beg!!!
CUSTOMIZE THE FUN – Some add-on packages that we offer have really helped customize the atmosphere that our clients were trying to acheive. These customization options that our Mitzvah customers have included, but are not limited to are uplighting & laser light shows, digital projection packages for music video and slideshows, digital photography,  karaoke and even kickin' it old school with turntable live mixing.
For more customization information, click here – > CUSTOMIZE YOUR BAR MITZVAH
Bar Mitzvah DJ Albany NY
FOR BOOKING  – Do not hesitate. We are usually booked about 6 months ahead of time for many Saturday nights. Call us today for a quote to determine exactly what you want and need for your Mitzvah, and how we can make it the best!
CALL OR TEXT US AT –  518.506.3305.