YOUR NY DJ in the Albany area!
518-506-3305 – Thanks for visiting our page! If you are planning a party in the Capital District area, maybe with a place like Albany Hilton, Western Turnpike Golf Banquet Hall, or maybe a fresh tent in your Uncle's Herb's  backyard. However, maybe you still don't know exactly what to do to entertain… No matter what you have planned, know that MUSIC MAKES IT BETTER!
CONSIDER US FOR YOUR DJ AT YOUR PARTY OR EVENT!
If you want a HIGH QUALITY DJ  in music entertainment and disc jockey services for your party in our state's capital, look no further! We are your affordable wedding & event disc jockey featuring a giant selection of new music & classics  – plus Digital Photography, Uplights and more!
Dance if you want, sing if you dare… Hire Albany's own: TheDJservice.com
Don't settle for any crusty old poopy-pants disc jockey or music entertainment service. DJ Cheap Chain & DJ Rektal Skwirt are the epitome of "you get what you pay for." God did not create them all equal. Ye' may go forth and end up with a gray-bearded old timer that has no knowledge of new music at all, or an experienced newbie that thinks classic rock is New Kids on The Block. Give us a shot and worry not!
DJ Kenny Casanova, a former WWE ring announcer & sports broadcaster is "The Bee's Knees of all DJs and Emcees" & plus tag team partner, DJ Maria is the area's #1 female DJ on google in Albany, NY!
ALBANY DJ SERVICES
& WHAT WE BRING TO THE PARTY: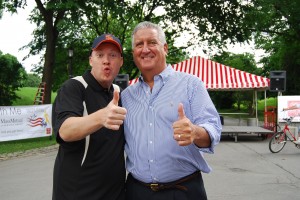 •200,000 song library
•Our Music Video LCD Package
•DJ/MC experience since 1996
•Interactive events, dances, & activities
•Uplighting
•Ring Announcer Exp: WWF / WWE / MMA Events
•Professional Photography "The DJ Cam"
•Voted Capital Region #1 Karaoke DJ
•Radio Personality Experience
•Huge Laser Dance Light Show
•Sports Broadcasting Experience with
•Karaoke & with a very large track library
•Professional Bose Gear
DO NOT WAIT! CALL US NOW FOR PARTIES IN / AROUND ALBANY NEW YORK!
Call us or TEXT us at 518-506-3305 . Email ken@thedjservice.com . Check out www.theDJservice.com for more information!
LOCAL ALBANY COUNTY SERVICES: If you want an affordable experienced DJ for your wedding reception or party with countless local venue hall relationships, our local Albany County office serves customers from Albany, Alcove, Altamont, Berne, Bethlehem, Clarksville, Coeymans, Coeymans, Hollow, Cohoes, Colonie, Delmar, East, Berne, Feura Bush, Glenmont, Green Island, Guilderland, Guilderland Center, Knox, Latham, Loudonville, McKownville, Medusa, Menands, New Scotland, Newtonville, Preston Hollow, Ravena, Rensselaerville, Roessleville, Selkirk, Slingerlands, South Bethlehem Voorheesville, Watervliet, and Westerlo, all on a regular basis for music entertainment disc jockey mobile DJ services.
Other Albany service points include:
Alcove
Aquetuck
Ballards MH Court
Beckers Corners
Berne
Bethlehem Center
Bethlehem Heights
Boght Corners
Breckenridge MH Park
Carmen Courts
Cedar Hill
Central Square MH Park
Clarksville
Coeymans Hollow
Cooksburg
Crescent Station
Dormansville
Dunnsville
Dunsbach Ferry
East Berne
East Township
Elsmere
Feura Bush
Fort Hunter
Fullers
Glenmont
Guilderland
Guilderland Center
Hartmans Corners
Helderberg
Houcks Corners
Karner
Kenwood
Knox
Lambs Corner
Latham
Latham MH Court
Lincoln Park Homes
Lisha Kill
Lone Pine Community MH Park
Loudon Heights
Loudonville
Maywood
McKownville
Meadowdale
Meilaks MH Court
Mohawk View
New Salem
New Scotland
Newtonville
Normansville
North Bethlehem
Norton Street MH Park
Parkers Corners
Pine Ridge Estates
Reidsville
Rensselaerville
Roah Hook
Roessleville
Selkirk
Shakers
Slingerlands
Smith Corner
South Albany
South Berne
South Bethlehem
South Westerlo
Spawn Hollow
Stanford Heights
Stony Hill
Sunnyside Trailer Court
Tarrytown
Ten Oaks MH Park
Thompsons Lake
Unionville
Verdoy
Wackmans MH Park
Wemple
West Berne
West Township
Westerlo
Whitney Estates
Wolf Hill
Yarbrough Homes